You can't out-innovate the market
Technology is now a core competence of business – it's an issue firmly on the boardroom agenda. But, technology moves faster than business. It always has and it always will. The opportunity gap this creates means that big businesses are dying as fast-moving, innovative new entrants steal their market share.
You can't out-innovate the market. No matter how good your team is, you don't have the monopoly on all the good people. It's time that large corporations recognise that their internal teams cannot keep up: innovation cannot just happen internally.
Organisations must look outside their own walls to see what is possible and then provide the platform to make it happen, so that they can give their customers what they want. Otherwise, those customers will find someone else who will.
We have a very simple and effective 2 pronged strategy for helping corporates innovate…
1. Discover what's possible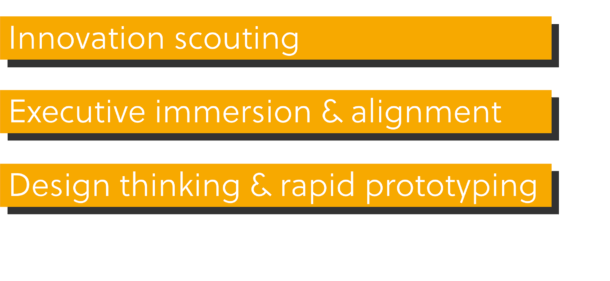 For businesses to survive, they have to practice open innovation. This means looking outside a traditionally small number of strategic partners and discovering what else is out there, discovering what's possible. It is not enough to build an innovation centre and hope that this feeds into the wider business, you have to really understand what opportunities are out there, opportunities that are popping up faster than your internal teams can keep up with.
We're not just talking about this, we're helping our clients actually do it in practice. We are scouting every day for the latest innovations, vetting them and matching them to our clients' problems. Our in-depth understanding of their industries means that we can show our clients the huge impact they could make on their businesses, helping them change the game in their industries. In fact, we're finding that they didn't know 90% of what we've been showing them existed!
We can do this because our people are there, on the ground in the startup ecosystems of Silicon Valley, London and Tel Aviv – we're not just doing desktop research. Every day, we're working alongside the leading VCs, startups, academic communities and the research labs of the tech titans to make sure that the scouting services we deliver to our clients are unparalleled.