Ashley Marsh and Francois Bosman met a few years ago during the Karoo to Coast mountain bike race. After a mid-race chat and a post-race beer, a friendship come cycling team was born. Ashley and Francois took Team Elixirr to new heights in 2021. In March, competing on behalf of Elixirr, the pair completed the Prudential PE Plett, a 4-day intensive and highly competitive race along South Africa's eastern cape.
This was their first major race since the onset of lockdown. The pair placed 10th overall, 7th in the Teams category and were the top amateur cycling team. Ashley and Francois cycled an average of 2.5-3.5 hours each day, riding up front with the professional teams. The total time comparison across the four days between them as an amateur team and the lower-tier professional teams was only 15-20 minutes. Francois and Ashley maintained this winning streak more recently with the two-day Houw Hoek Mtb Tour – Ashley finishing 1st and Francois 2nd on the first day of the race, and then Francois 1st and Ashley 2nd on the second day of the race.
The mental and physical commitment, endurance and drive required for these achievements is extraordinary. It takes a true challenger mindset. We are The Challenger Consultancy and know that there are many similarities between the way our people operate and the demands of competitive sport. So, we sat down virtually with Ashley and Francois, both based in Cape Town, to hear about their experience riding the PE Plett, and to learn from two people in the know what it takes to be a true challenger.
Being a challenger is a lifestyle
One look at Ashley and Francois' training schedules shows that being a challenger is a lifestyle, and one that comes with some sacrifice. Francois cycles 10-13 hours a week in addition to a few hours of running. He eats clean, barely drinks alcohol, and fasts for 14-16 hours per day. In 2006, Francois cycled from Tanzania to Knysna South Africa, covering 8,700 km. Ashley cycles 8-12 hours a week plus a few hours of running and has an Ironman under his belt to show for it.
"My whole life is like a challenge to myself. Each event is a challenge to me and helps me motivate myself and train. It pushes me into a certain lifestyle when I've got a challenge lying ahead… The 'challenger' mindset is something that I try to live with as much as I can. If I don't have something – a race or goal – on the horizon I find that my motivation goes into decline. My training unravels, I drink more, I don't focus on what I'm eating. It's good to have these challenges and motivations to stay focused."

Francois
"I do a lot of my training before my kids are up – at 4.30am. I like to go out and ride, pushing myself as hard as possible. I can see my personal best on Strava, and the next time I go out I try and beat that. It motivates me to go faster and push harder each time. About 2-3 weeks before each major race I try to eat right, drink less, and get my mindset right. You don't want to be racing with Francois each day and always be the nail! I'd rather be the hammer than the nail."

Ashley
In it to win it
Ashley and Francois are competitive. Without that competitive drive you're not going to survive the physical and mental pain of a truly demanding challenge.
"When we're out on a training ride, if someone passes us on a bike whilst we're chatting, we will chase them and ride with them. It doesn't often happen that we don't overtake! We're always trying to race when there's someone in front of us".

Ashley
That competitive instinct is innate.
"I dislike losing a lot more than I like winning. I push myself to be the best version of myself. I spur myself on to improve and improve. To me losing is not necessarily stone cold last, even placing 15th or 20th in some instances can feel like losing."

Francois
On the third day of the race, Francois was sitting up front during a very hilly part of the race: "the fact that I was setting the pace makes the pain feel good because you're hurting everyone to stay with you." Ashley also noted that seeing them catch up with the pro teams during the race, and being so close to them, motivated them to dig even deeper and keep pushing forward.
It goes to show that to be a challenger, you don't excel by just observing personal best. You excel by using the most elite teams in the game as your benchmark. You compete with your yesterday self, but also strive to beat the very best.
Choose the right people
Ashley and Francois operate as a real team – and their resulting success serves as evidence that you have to surround yourself with the right people to achieve your goals. People who will push you forward, motivate you, and who share your mentality.
"Over the years, Ashley and I had done a few races together. We would ride together for parts of these events, with Ashley finishing ahead of me most of the time. This was just the type of partner I was looking for, someone slightly stronger that would motivate me to improve and that had a similar mindset when it came to pushing myself and racing… We have become a closely matched team and continue to push each other to improve."

Francois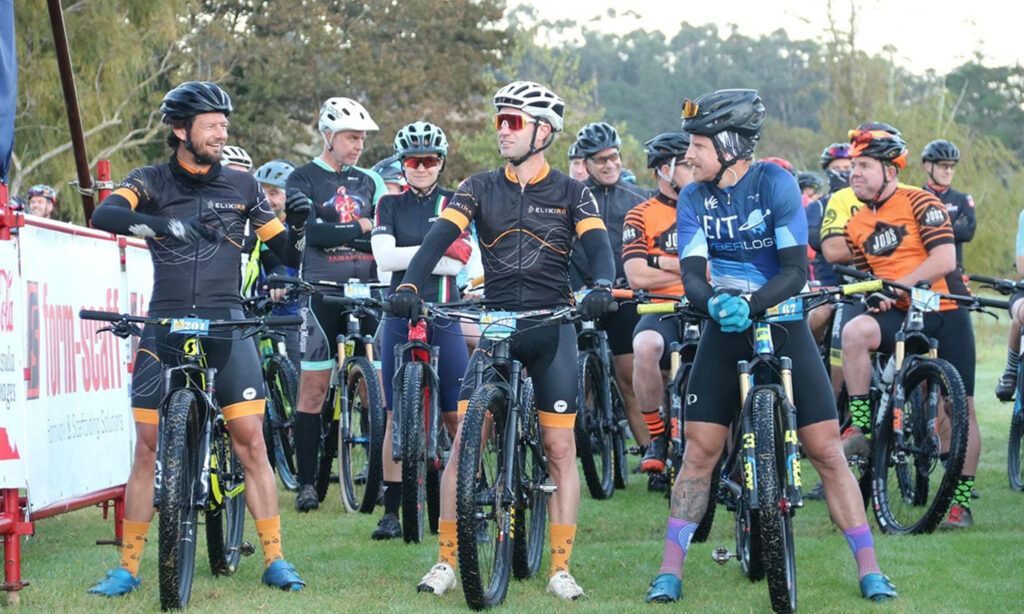 "We spur each other on. We try to ride harder and faster every time we ride. When one of us gets fitter or faster, it motivates the other to pull their weight… We've got to know each other a lot better over time… Now, if we see one person suffering the other will help them as much as they can, coming off the pace or leading to create a slipstream. This helps more to prevent burnout. We did this extremely well in this race."

Ashley
Looking ahead to the 2021 Absa Cape Epic
There's one final thing that you have to have if you're going to successfully adopt and live the challenger mindset: passion. You simply can't follow through when the going gets tough if you don't love and have faith in the value of what you're pursuing. Ashley and Francois both have this passion – Francois grew up in Knysna, a small town in South Africa's western cape, and was spoiled for choice with destinations for BMX and mountain biking. Ashley was introduced to mountain biking in 2010 by his brother-in-law after hearing about a race he took part in; he bought a bike a few days later and has been hooked ever since.
The PE Plett is one of the lead-up races to the infamous Absa Cape Epic, which Francois and Ashley will be competing at in October 2021 as Team Elixirr. We are proud to support a team who truly epitomise the challenger mindset.