Hackathons have moved far beyond traditional Silicon Valley startups and are now widely adopted by corporates, non-profits and governments to tackle technological and even societal problems. With 43 hackathons advertised in London last November alone, and the expansion of online data science competitions like Kaggle, there are plenty of opportunities for talented individuals and companies to get involved.
When we organise such events for our corporate clients, we make sure to focus the hackathon on a defined business problem or opportunity, and thoroughly vet participants to ensure a small, focused and very high calibre group turn up to compete.
But what is the value in organising or attending a hackathon?
For the corporate…
Tapping in to talent outside your organisation
All companies are looking for innovative solutions to core business problems that generate tangible value. Hackathons are a chance to look outside to the market for great ideas and untapped talent pools, and spur the development of cutting edge software, algorithms or prototypes through a collaborative proof of concept.
Stretching the boundaries of what you think is possible
Hackathons are a chance to explore in an unconstrained manner and test the 'what if' and 'why not'. Here, we are creating an environment in which it is possible to 'tweak and learn' our way to success – through low-cost, low-risk and rapid trial and error.
Although hackathons have created memorable and market-defining products (internal hackathons were responsible for many of Facebook's key features, such as the 'like' button, the timeline feature, and tagging friends in comments), they're not devoid of criticism.
Sadly, hackathons often end up being a one-off event or worse yet, a marketing exercise to proclaim to the world that your company is "innovative". Complex problems require sophisticated solutions, prior research, and often extensive customer testing, which may not be possible over such a short event. That being said, hackathons are good for tackling a discrete, clearly defined issue, which can then be built on.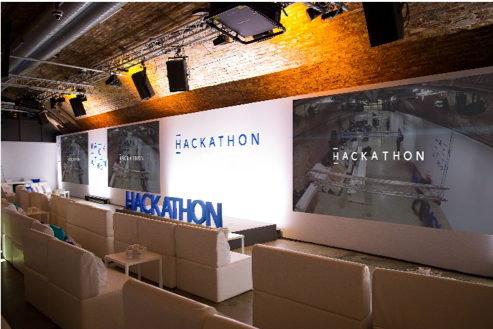 For the participants…
Developing new use cases, expanding your network and understanding your competitive positioning
As well as the (very real) pull of prize money (some hackathon prizes have reached up to $1m), they are a chance for participants to build new relationships; with fellow team members, with competing teams, and with the company organising the hackathon.
For individuals within the same team, hackathons provide a chance for startups to build up their portfolio of work and experience using real datasets on problems backed by industry demand. It also provides an opportunity for people from different parts of a business to work together outside of their comfort zone and see problems from different perspectives.
Across teams, developers get a chance to network and learn from other expert minds in their field, all in an unconstrained environment to explore the art of the possible. This can be facilitated by running a Slack channel, for example, for teams during and after the event.
But perhaps the strongest pull for teams to attend these hackathons is the potential to enter into a long-term and valuable partnership with the corporate sponsor. Compared to networking or 'speed-dating' style events between startups and corporates, where conversations are too general and lack real content, hackathons provide an opportunity to show how participants can tailor their solutions to solve real business problems. These partnerships could give access to technology and platforms within which they can test and build their ideas.
A two-day hackathon plus travel time means giving up time spent focusing on your core business. For small startups, this is a real commitment, especially as the IP created during the hackathon may be owned by the corporate sponsor. Even after the event, long nights fuelled by caffeine and pizza will inevitably lead to some degree of burnout and unproductiveness, further adding to the opportunity cost of being away from your core business. It is no wonder therefore that many startups are hesitant to attend hackathons. Participants need to feel it is really worth their time to partake.
Running a high-impact hackathon – our top 8 tips
Looking at hackathons from the perspective of both the hackathon sponsor and the participants, we've seen that careful planning can address some of the issues both sides might experience. So here are our top 8 tips to make a hackathon a success…
Clearly define the scope of use cases: It's crucial to effectively define the parameters for the hackathon, and that means thinking about what you really want to achieve. A broad use case lets participants come up with creative solutions and showcase what they can do. This means you can see capabilities in the market you may not have been aware of and teams can guide the use case depending on their experience and expertise. Whilst a more specific use case means targeted problem solving and potentially a deeper level of intent from the participants, this strategy may constrain creativity and limit the scope of possible solutions.
Put 'skin in the game' on both sides: It is important to show participants that the corporate sponsor is not just using this event to get free labour or IP, or as a marketing tool with no real business substance behind it. By putting in place a partnership commitment for winners with funds committed to a proof of concept, corporates can attract the best talent.
Establish the right environment from the onset: Having senior management involved in the actual hackathon, giving insights, critiques and sitting on the judging panel, this will show participants and the sponsor's staff that the corporate is serious about establishing an environment to run a portfolio of experiments and fund them iteratively as they grow into real, tangible solutions for the business.
Manage expectations: If teams promise or expect to build from scratch the next big tech product over a few days, there is inevitable disappointment and criticism when they fall short. At hackathons, the focus should be on developing prototypes, not a fully functioning solution, which will then need to be developed after the hackathon in a proof of concept.
Facilitate networking: The opportunities to build networks and share ideas at hackathons are vast, with so many bright minds in one space. It is therefore important to ensure this value is realised by facilitating cooperation and networking events. This could include providing collaborative break areas for groups to discuss ideas in a more relaxed environment, be that over drinks, meals or even ping pong.
Value the hackers' time: Giving up a weekend or working days is a significant commitment from anyone, especially smaller startups with few employees. Offering to reimburse time travel expenses helps to set up a working relationship for the future. Even for the teams that don't win, ensure plans are in place to develop any interesting solutions and ideas beyond the hackathon.
Be transparent with the hackers: Be very clear from the outset about IP and NDAs, and what data will be provided in what format. It is also important to make the judging criteria clear; are you looking for participants to think outside the box and take a different approach to solving the problem? Ensure all the participants know the judging criteria they are hacking towards and that it is strictly adhered to.
Make it fun: Go above and beyond to make the hackathon a memorable event for all involved. This can be achieved (depending on budget) with the setup of the venue, the food and drinks provided, an inspiring keynote speaker, and even the option of a hotel for people to rest at, rather than staying up all night fuelled by caffeine, beer and pizza.
We've seen first-hand the positive impact these simple tips can have on the success of a hackathon. However, the one thing that underpins it all is understanding that a hackathon needs to be a two-way street. The sponsor and participants must treat each other like partners.
Not adopting this mindset puts your hackathon at risk of becoming an expensive and superficial marketing exercise with a ceiling placed on the possible strategic benefits, defeating the entire point.