A crisis for sex, guns & gambling?
How investment dollars are fleeing the vice industries for sustainable investments

Blog
Sex. Weapons. Gambling. While they may sound like the perfect ingredients for a Bond film, the industries are approaching a crisis point. Why? The rise of Sustainable Investment Funds (SIFs) is set to cut them off from the majority of market funding sources.
Are we really just talking about funding wind farms?
When most people think of sustainable investment they think of wind turbines and solar farms (Environmental Social and Corporate Governance assets). Generally, they also assume that growth in their Assets Under Management (AUM) is driven by altruistic behaviour at the expense of profit. But this doesn't have to be the case! SIFs are much broader than wind and solar farms. When we consider the wider ESG themed investments below it is clear that we should be able to get superior returns as well as a warm and fuzzy feeling…
Understanding of SIF investment types is often far too narrow. In fact, it is a much broader combination of mainstream asset classes and investment types. To help illustrate this very point, we're using terms aligned to the Global Sustainable Investment Alliance taxonomy and have added our own categorisations.
Growing acceptance of these ESG themed assets is leading to the emergence of ESG funds as a serious and sustainable asset class. And with that, due diligence and screening processes must also adapt.
Does anyone really invest in these funds anyway?
Once considered a fad for niche investors, at 55% ESG themed investments now make up the majority of AUM in Europe. And the AUM in these funds is also growing much faster than the market as a whole…
Negative screening is having a negative effect. Due to their high growth and diversification benefits, where the 'sex, guns, and gambling' industries once attracted investment funds, they are now being challenged by this largest and fastest growing segment of SIFs.
It's all about performance
Evidence on whether asset owners really do care more about ESG issues than they did in the past is fairly mixed. Luckily, we can explain the growth of ESG themed investments without specific reference to people's concerns about the issues. Within individual companies, the E, S and G all correlate with better long-term financial performance. In some cases, such as with governance, the link is so well established that most businesses are already working to improve their scores.
If the companies within a fund are performing better, it is logical to think that the overall fund will also perform better. Just take a look at the constituents of the S&P 500 Carbon Efficient Index who have outperformed the S&P 500 in every year except for one since late 2008.1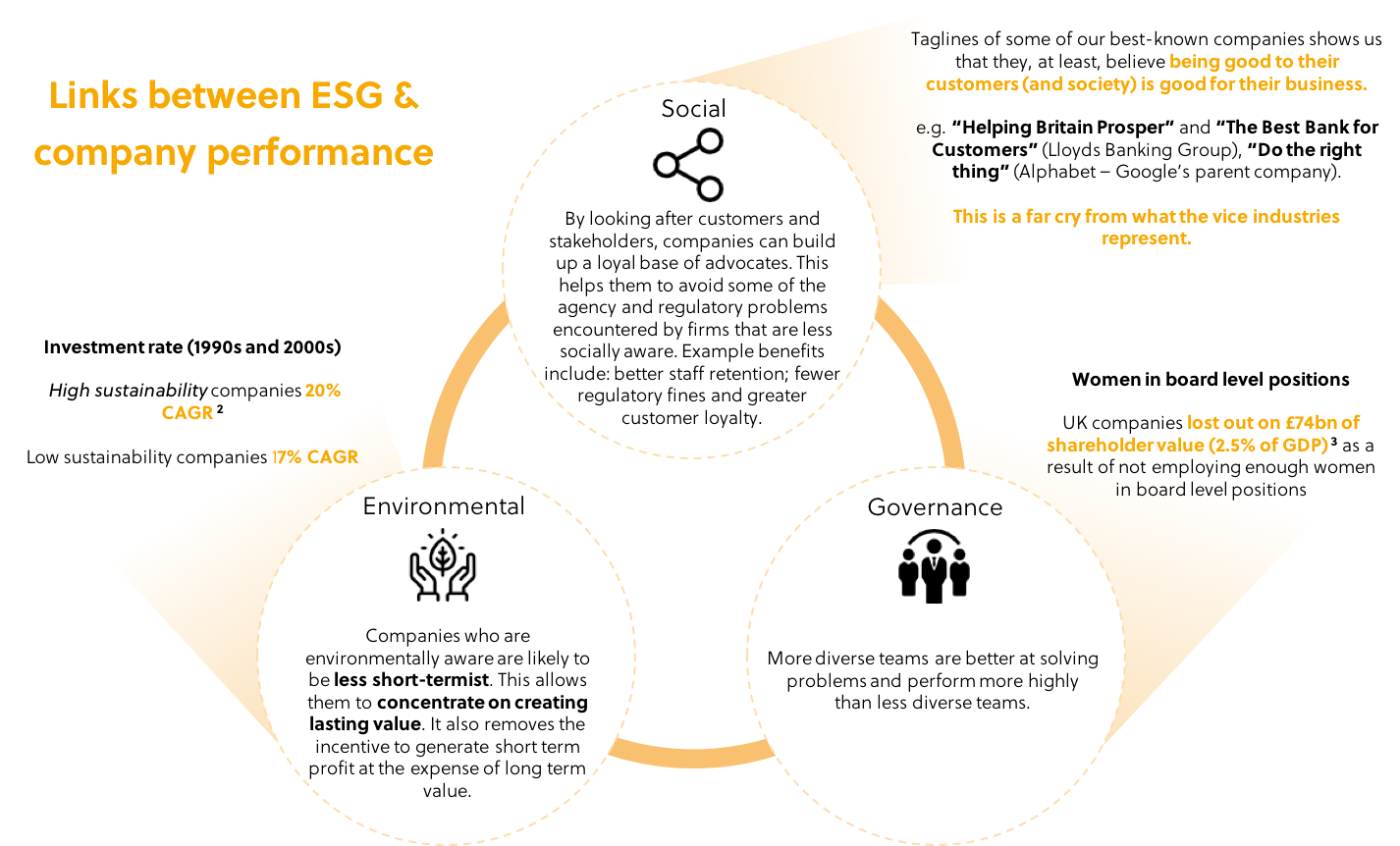 But surely this is just like any other asset class?
The evidence to support ESG themed funds as a rational, profit maximising investment choice is growing. This means that they are not only here to stay but are well on track to become the cornerstone of everyone's investment strategy. And for the 'sin industries? Increasing difficulty to raise capital as more and more of the available funding is consumed by ESG themed funds.
So what do fund managers need to do about it?
The fundamental shift has and continues to occur in investment management. Funds, regardless of their structure, will need to adapt. Specifically, the due diligence and screening processes need to react to ensure that not only are they meeting internal or imposed investment and segregated mandates but also continue to drive outperformance.
Private Equity Funds, Fund of Funds, and even SMA and IMA managers, must review their investment strategies to meet the challenges of these changes. Truly understanding the underlying companies, the funds and the industries remains the cornerstone of the process, but now there is the added overlay of ESG themed investments to consider.
During the due diligence process, fund managers should define which ESG factors, within their mandates, they believe are most closely correlated with financial performance. And then satisfy themselves that the chosen fund meets these criteria. Failure to incorporate this fundamental change will not only erode potential investor demand but importantly, it will impact the ability to outperform the market.
Elixirr has supported clients across the globe in gaining a deeper understanding and enhancing their due diligence approach.
References
1 S&P Dow Jones Indices, Elixirr analysis.
Note: Late 2008 is the furthest back the S&P backdate the performance of the S&P 500 Carbon Efficient index constituents.
2 Harvard Business School – The Impact of Corporate Sustainability on Organizational Processes and Performance. 
3 Grant Thornton – Women in Business: the value of diversity